Giving Canadians
a better choice
We're the digital, low-cost alternative that gives Canadian investors a better choice in an industry that's historically been stacked against you.
Everything a traditional financial institution is not
We set out to give Canadians better, simpler and more affordable ways to become financially successful and secure.
Canada's fastest growing online brokerage
Over 250,000
new accounts
opened annually
$30 billion
in assets under
administration
10x winner
Discover what we stand for
We're in the business of financial empowerment- your financial empowerment. Our goal is to help you confidently take charge of your finances, so you can be more financially successful and secure.
We've got your back
Rest assured that we go above and beyond to protect your money, your account and your privacy.
We help you keep more of your money
We're entrepreneurs at heart. We're constantly innovating so we can keep our fees low- and you can keep more of your money.
Ranked the best online broker by MoneySense for 2021
#1 in customer service
#1 in mobile experience
#1 in user experience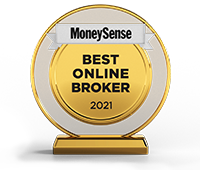 Proudly Canadian
Hundreds of thousands of Canadians trust Questrade as Canada's largest independent online brokerage
Start investing confidently
Ready to open an account and take charge of your financial future? It's easy. Get set up in minutes.