Tools
The right tools make investing easier. These are some to help you evaluate investment ideas, monitor the market and track your investments.
Make smart and confident choices
Whether you're new to investing or a seasoned pro, these tools are here to help you feel confident about your decisions, every step of the way.
News, Insights & Research
Discover investment ideas that match your goals
Investing & Trading Tools
Evaluate and analyze your investment choices
Investment Monitoring
Monitor the markets to be ready for opportunities
News, Insights & Research
Kickstart your strategy. Find investment ideas and opportunities for more confident decision-making.
Discover which stocks analysts have their eyes on
Stay up to date on all the latest news surrounding investments you care about
View valuable information about U.S. and Canadian stocks to see which one could be right for you
Tools to help you stay on top of the markets
Spot market growth, see investing trends, understand new principles and get a feel for the markets.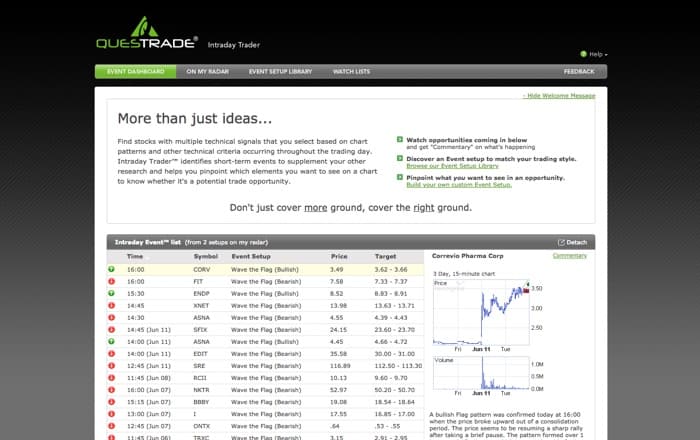 Intraday Trader
Uncover investing opportunities throughout the day and match them up with your watchlist.
Get details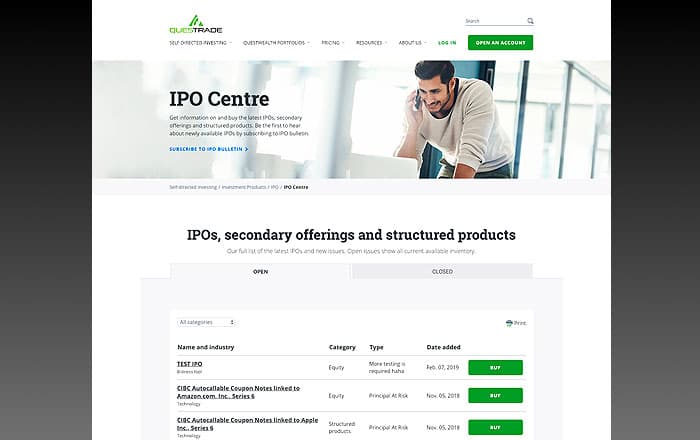 IPO Centre
Get the latest initial public offering opportunities sent straight to your inbox.
Get details
Investing & Trading Tools
Get on the right track—and stay there. Discover and filter investment products to help reach your goals.
Tools to help you make informed decisions
Put supports in place so you never miss an opportunity. Identify technical patterns, cross-reference your watchlists, see company growth and track stock performance.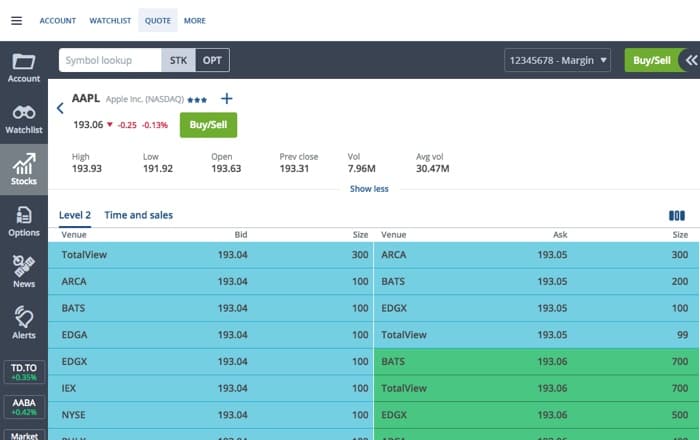 Market Data
Get free, real-time snap quotes in one click, market data rebates, and your choice of plans and add-ons.
Get details
Order entry types
For stocks, make classic or advanced order types, including bracket orders. For options, trade standard options or multi-leg options.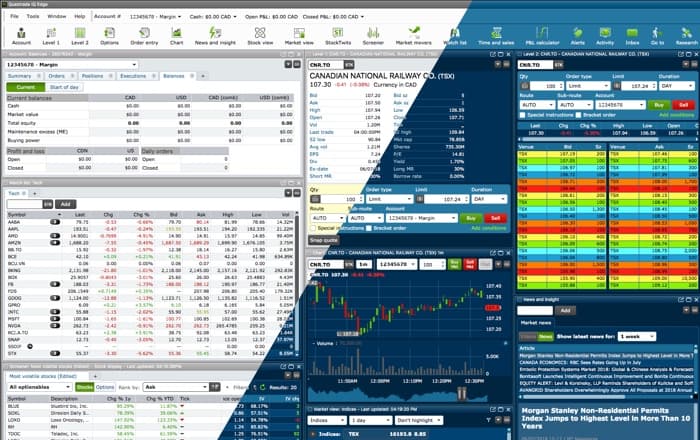 Customization
Create your custom layout and workspace with linking windows and hot keys so you're always ready to jump on an opportunity.
Investment Monitoring
Track the markets- and your investments. Keep an eye on activity that directly affects your decisions.
Tools to help you stay on top of your investments
Keep track of current prices, create multiple personalized watchlists and get alerts when the timing's right.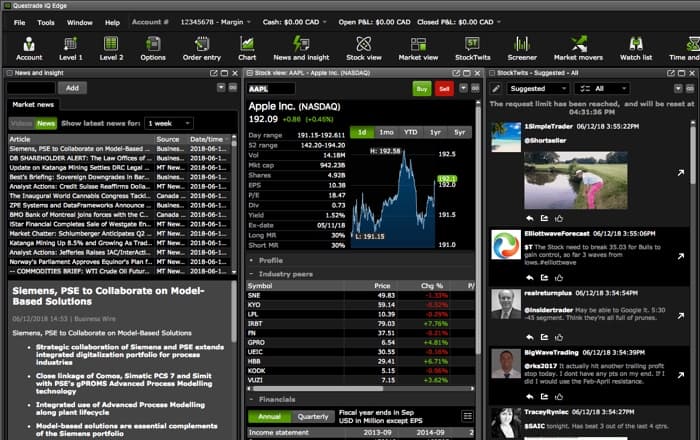 Investment reports
Get insight into statistics, portfolio and operations information in a categorized format that's updated regularly.
Watchlists
Create personalized lists of investments you want to keep track of. Create multiple lists and customize them by industry, geography, size and more.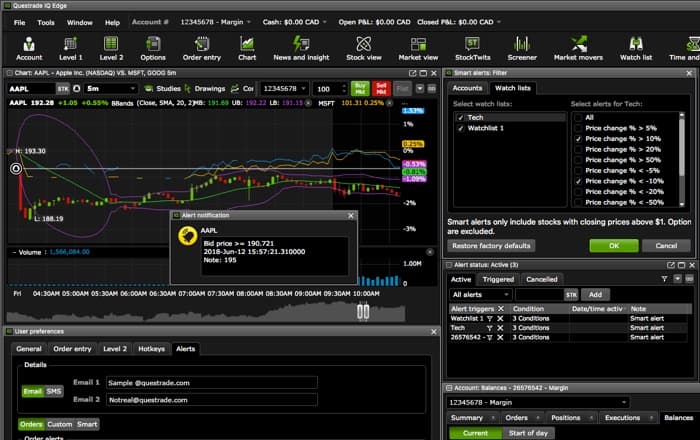 Alerts
Never miss an opportunity. Set up alerts to get automatic notifications for changes in the investments you're interested in.
Discover tools created by our partners
Find trading apps, trade now partners and offers created by our trusted partners to help you invest more confidently.
Start investing confidently
Ready to open an account and take charge of your financial future? It's easy. Get set up in minutes.
Consider adding Questwealth Portfolios
Receive a pre-built portfolio made for your investment goals, designed and managed by our team of experts.
Get answers to our frequently asked questions
How do I get access to tools?
You can find tools in the market research section when you log in to Questrade. Some tools are also built into IQ Edge, our advanced trading platform.
Are tools available in all platforms?
Yes, while some platforms may have more tools than others, there are tools available on every platform
Are your tools free to use?
Yes, all tools are free to use and come with the free trading platforms.
See All