Contracts for Difference
What you need to know about CFDs
What is a CFD?
A CFD (contract for difference) is an investment product you buy and sell that tracks the performance of an underlying security. These underlying securities can include: commodities (like corn, oil or precious metals), stock indices (like the S&P 500 and DOW), or individual stocks themselves.
Access to a wider variety of securities

CFDs provide investors with all of the benefits and risks of owning a security without actually owning it.

High leverage opportunities

CFDs can be traded with leverage so you can maximize the cash you have. This margin can potentially have a huge difference to your trades—both positively and negatively.

Similarity to the underlying security

Because CFDs track the performance of a security, you are able to profit on the rise or fall of the underlying security without the need to own it. This eliminates many of the hurdles when trying to trade commodities or international equities, while still getting the exposure to the security you want.
Stock CFDs
Companies from around the world:
Canada
USA
United Kingdom
Austria
Australia
Belgium
Germany
Hong Kong
and more
Learn more
Commodity CFDs
Corn
Soybeans
Wheat
Live Cattle
Wheat
Precious metals (gold, silver, copper, palladium, platinum)
Crude oil
Natural gas
Coffee
Cocoa
and more
Index CFDs
US500/SPX500
US tech 100 NAS
US 30 Wall Street
Australia 200
Japan 225
Germany 30
Hong Kong 50
and more
Why trade CFDs at Questrade
Fair, honest trading execution
Questrade is a non-market maker trading forex and contracts for difference. While other brokers will trade against your positions to generate a profit, we will never do that. So you can rest easy knowing when you trade with us, we're truly on your side.
Personal relationship managers
When you have an FX and CFD account at Questrade, you will receive assistance from a dedicated team who can help you learn the platform and begin trading CFDs.
Low fees
At Questrade, you have no account opening fees and you'll enjoy low spreads on CFDs and some of the lowest commissions for stock CFD trading.
How to get started trading stock CFDs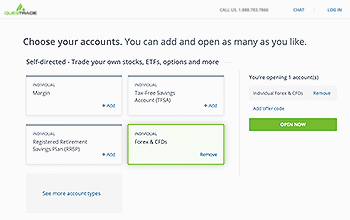 Open an account
To get started you need to open a Forex & CFD account.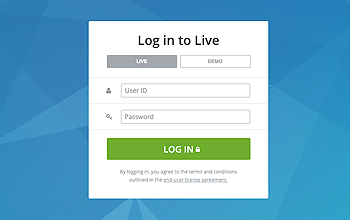 Log into the platform
When your account is open, you can trade stock CFDs on the award winning platform Questrade Global.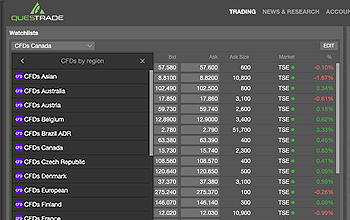 Find stock CFDs by country under watchlists
For a full list of CFD commissions and fees, see pricing
Start trading CFDs
Forex & CFD account
With a Forex & CFD account, you can buy CFDs at Questrade.
Get answers to our frequently asked questions
How do I trade CFDs?
You can trade CFDs on Questrade Global, our forex & CFD trading platform.
What do I need to open an account?
To open a forex & CFD account, you'll need to provide a government issued ID and SIN and answer some questions about your financial situation.
Is there a minimum required to open an account?
To open an FX &CFD account, you must fund your account with a minimum of $1,000.
See All