What Canadians Need To Know About Investing And Their Retirement
Posted by Alex Conde February 26, 2019 • 6 min read
What is Simply Successful Investing and how can I get started?
What is a T-Rex score?
What you can do to get started on the road to a comfortable retirement?
Larry Bates is not a new face in the world of Canadian investing, but you might have been hearing his name a lot more recently. A Bay Street veteran with 35 years of experience in the investment-banking industry, Larry has also been making a name for himself as an author and speaker – helping everyday Canadians understand the key lessons they need to become more financially successful at investing. He recently published a book called "Beat the Bank: The Canadian Guide to Simply Successful Investing".
We had the pleasure of speaking with Larry, and he answered some questions about his philosophy about investing, key lessons he thinks Canadians should know, and what a T-Rex score is (spoiler: it isn't a dinosaur, but the numbers can be equally as terrifying), and other items that impact Canadians and their investing.
Questrade: Hi Larry. To start with, can you tell us a bit about what you've defined as the three methods for Simply Successful Investing?
Larry: I believe investors who take a bit of time to learn the basics will be able to make better choices and achieve significantly better investment results for themselves and their families. These choices may include one of the three methods of what I call "Simply Successful Investing":
Do-It-Yourself. In other words, invest directly in stock and bonds you select.
Assemble-It-Yourself. You can "assemble" a simple portfolio of professionally managed, low cost index ETFs to give you the asset mix you are looking for without ever having to pick an individual stock or bond.
Robo-advisors offer a super low maintenance way to invest at a cost much lower than typical mutual funds
I believe AIY and robo investing can be great choices for the majority of Canadian investors while DIY investing may be best suited for those who have some experience and stick with blue chip stocks.
Questrade: At what age should Canadians start thinking about their retirement?
Larry: I don't think it is realistic to expect those under 45 or so to think much about retirement other than to recognize that it will come. But, no matter what your age, it is really important to consistently build your net worth during your working years by reducing debt, saving and investing through tax efficient accounts like TFSAs and RRSPs.
Questrade: What's the biggest hurdle to Canadians reaching an enjoyable retirement?
Larry: There are two main hurdles. First, saving is hard! There are so many demands and temptations. But spending less than you earn and adding to your net worth year after year by permanently reducing debt and/or saving/investing should be the goal. The second hurdle is earning, and keeping, a good return on investments. Most Canadians are advised to buy high fee mutual funds which produce below market returns over time and result in much smaller nest eggs than can be achieved through more efficient, lower cost investment products and services.
Questrade: Why do you think Canadians are so hesitant to leave high-fee mutual funds?
Larry: The big Canadian banks – and by extension the investment industry overall – occupy a position of paternalistic authority that too many investors respect unquestioningly. The industry brilliantly capitalizes on the combination of poor understanding of fees, deep loyalty, and misplaced trust by charging Canadians the highest mutual fund fees in the world. Rather than charge fees directly, fees are silently deducted every year so most investors don't see them. And the industry never presents a proper bill! Investors never receive a clear explanation of the fees they are paying and the impact of those fees over time.
Questrade: Would you rather have an investment with a lower fee or a higher return?
Larry: I want both. And the easiest way for millions of Canadians to increase the returns they actually get to keep is to pay lower fees!
Questrade: People often say they have no time to plan for retirement, how much time is really needed to get your financial picture in order?
Larry: There are 8,760 hours in a year. Spend a few of those hours, first learning investment basics and then applying that knowledge to your own circumstances, and you will be miles ahead.
Questrade: What is a T-Rex Score and why do you think Canadians should calculate it for their RRSPs and TFSAs?
Larry: Your T-Rex Score reveals how much of your total investment returns you actually get to keep after fees. And the results can be quite shocking. For example, let's say you invest in a mutual fund which generates an average annual compound return of 6% before fees over 30 years but charges 2% in annual fees. Your T-Rex Score in this scenario is 47%. You get to keep only 47% of your total return. The rest is lost in fees.
Imagine…..you work hard, sacrifice to save, risk your money in the market over your lifetime and your mutual fund strips away more than half your return in fees! Without realizing it, millions of Canadians are in precisely this position.
Every investor should know their T-Rex Score. Go to larrybates.ca to check out yours.
Questrade: Can you explain your idea of Wealth Builders and Wealth Killers and how they can impact someone's investments?
Larry: Six powerful forces will determine the sum of your future wealth: three 'Wealth Builders' and three 'Wealth Killers.' Their impact will pull you and your money in different directions, often at the same time, working either to grow or shrink your wealth. Small variations in any one of these opposing forces can have an enormous influence on your ultimate investment outcome.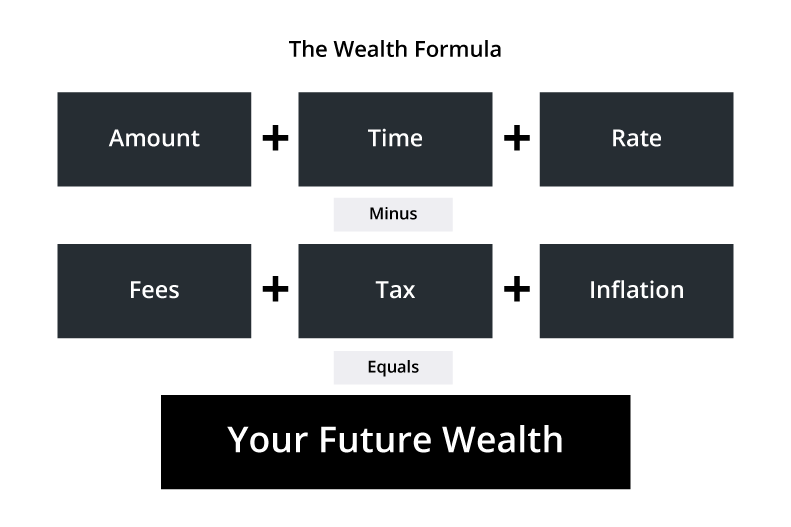 Image provided by Larry Bates
Wealth Builder #1: Amount
All else being equal, the more money you save and invest, the more you end up with . . . right? Of course.
Wealth Builder #2: Time
Investing is a long-term game. Decades long. Assuming a positive rate of return on investment, the longer the time period over which you save and invest, the better.
Wealth Builder #3: Rate
Okay, another obvious point: the higher the rate of return on your investments, the better your result.
Powered by the magic of compounding and fueled by re-investment, the combination of longer time periods and higher rates of return can produce incredible outcomes. But what about Wealth Killers?
Wealth Killer #1: Fees
Often only partially disclosed or simply buried deep in the fine print, investment fees are the "stealth wealth killers". Bit by bit, millions of Canadians are losing up to 50% or more of their lifetime investment returns to fees.
Wealth Killer #2: Tax
Just like fees, taxes can severely undermine wealth building magic. But there are a few simple steps you can easily take such as the use of TFSAs and RRSPs to minimize the wealth-killing impact of taxes, and significantly increase the portion of your investment returns you actually get to keep.
Wealth Killer #3: Inflation
Consumer prices tend to go up over time and as the years pass, it takes more money to buy the same goods and services. You have no ability to influence inflation; you simply have to beat it.
Questrade: If you had one lesson you wished Canadians knew about saving for retirement, what would it be?
Larry: Now is always the best time to start saving.
Questrade: What is one action every Canadian can (or should) take today to improve their chance of a secure retirement?
Larry: Take a bit of time to learn investment basics. As an "informed consumer" you will be in a position to make much better choices, keep more of your investment return for yourself and ultimately build a much larger retirement nest egg. You can Beat the Bank!
If you enjoyed this post, please consider sharing it on Facebook or Twitter!
P.S. We'd love to meet you on Twitter or on Facebook
The information in this blog is for information purposes only and should not be used or construed as financial or investment advice by any individual. Information obtained from third parties is believed to be reliable, but no representations or warranty, expressed or implied is made by Questrade, Inc., its affiliates or any other person to its accuracy.
The information provided by Larry Bates does not constitute advice or recommendation by Questrade, Inc. ("Questrade") with respect to investment in financial instruments. Questrade, Inc. is a registered investment dealer, member of the Investment Industry Regulatory Organization of Canada ("IIROC") and a member of the Canadian Investor Protection Fund ("CIPF").
The incidence of technical difficulty and the risk of inaccuracy is an inherent part of transacting via the internet. Questrade cannot guarantee the timeliness, accuracy, and reliability of the information provided by Larry Bates and Questrade will not be held liable nor assume any liability for any loss or damages arising directly or indirectly from the use of information from Larry Bates. The information provided by Larry Bates is obtained from sources believed to be reliable. Neither the information nor any opinion expressed constitutes a solicitation by Larry Bates and Questrade for the purchase or sale of any securities or commodities. For more information, please refer to the Questrade Legal Notice.
Any information or testimonials relating to past performance of securities through investment in certain products, industries, or sectors does not guarantee future performance.