You deserve to
retire wealthier
Don't let high fees eat away at your hard-earned retirement savings. Take control of your financial future by switching today.
Retirement calculator
Find out what you need to retire and how close you are to getting there.
Lower your investment fees to get to your
retirement goal faster
You could retire with up to
High mutual fund investment fees can quickly drain your retirement savings. Even 1% can have a significant impact on your returns. With Questwealth Portfolios, you get a low-fee ETF portfolio that's matched to you.
Get started
Retire the way you want to. Let us show you how:
How to figure out what you need to save for retirement
How to make a plan to meet your retirement needs
How to choose an account that lets you save on taxes while you save for retirement
Take control of your retirement
Doing a little today can have a big impact on what you end up with in retirement. Contributing often, contributing early, saving on taxes and making good investment decisions are easy steps to take to make sure your retirement savings are on the right track.
Choose accounts that reduce your tax burden
RRSP
REGISTERED RETIREMENT SAVINGS PLAN
Tax-sheltered earnings on investments.
Enjoy tax deductions on yearly contributions.
Withdrawals before retirement are subject to income tax.
When you withdraw, you have to pay income tax on amount.
Contribution limit is 18% of previous year's earned income (2021 max. $27,830)
Learn more
TFSA
Tax-Free Savings Account
Tax-free earnings on investments.
Withdraw any amount at any time, without paying income tax.
When you withdraw, it's tax-free
Contribution room is $6,000 for 2022 (lifetime max is $81,500 2)
Learn more
Transfer your accounts for free
When you move your existing accounts to Questrade, we'll rebate the transfer fees you're charged for the switch.
Any balance, from any eligible account—we've got you covered.
Get started
Increase the amount you're saving
Increasing your savings will get you to your goal. Automating your contributions can make it a lot easier.
Contribute to your RRSP, ASAP.
With Instant Deposit, you can make contributions of up to $3,500 per day 3 in minutes with Interac or Visa Debit. Add funds to your account instantly so you never miss an opportunity.
Diversify your investments
Diversification is a fancy way of saying don't put all your eggs in one basket. Because the more diversified your investments (the more baskets they're in), the better your portfolio should perform over the long term. Why does this work? Because there isn't one industry or asset class that consistently performs over time. So, you'll want to ensure that your portfolio isn't overwhelmingly reliant on one particular industry. Diversification aims to mitigate risk and increase chances of long-term growth by investing in a wide variety of assets and sectors instead of focusing heavily on one area or company.
Know your comfort with risk
When it comes to investing, you need to know how comfortable you are with big swings in the market. If you can't stomach 20% swings in your portfolio, you will probably be a more conservative investor. The way you balance your comfort level is maintaining the proper balance of fixed income investments and equity investments in your portfolio.
Fixed income is an investment where you can reasonably expect regular periodic income, similar to interest in a savings account. These investments will give you a lower return than equities but also a limited downside. They are generally better for people who are closer to retirement age.
Equity is what people usually think of when they think of investing, usually stocks and exchange-traded funds. Equity investments can give you higher returns but also a bigger risk of downside. Equities are more acceptable for people who have more time until retirement.
Portfolios holding more fixed income are usually more conservative, where portfolios with a greater amount of equity are riskier.
Time horizon
Many people think investing for retirement is simply waiting to get to a certain number, but you don't stop investing the day you retire. Quite the opposite. When the day comes and you're ready to enjoy your golden years, the money you saved will turn into income for your retirement lifestyle. But you won't need all the money all at once. Odds are, you will still be investing a portion of your wealth even in retirement. So when you're looking at how long your investments will stay invested, you should look at the amount of time you will spend retired on top of the amount of time it'll take for you to get there. This will give you a bigger picture of how long your investments will stay in the market and the impact of those investments over time.
Two great ways to invest with Questrade
Do it yourself
Self-directed Investing
Build your own investment portfolios with stocks, etfs and more
Trade stocks for 1¢/share (min. $4.95 to max. $9.95)
Buy ETFs for free
No annual account fees
Get a pre-built portfolio
Questwealth Portfolios
Diversified ETF portfolios made for your goals
Management fees starting at 0.25% (0.20% after $100,000)
Actively managed by experts who adjust your portfolio when needed
Socially Responsible Investing portfolios available
Additional helpful articles on retirement
Everyone's retirement doesn't look the same. The way you plan for and approach it will be as unique as you are. Here are some more unique retirement topics that may help you on your journey to retirement.
If you have a pension plan, do you need an RRSP?
When does it make sense to supplement your pension income with an RRSP.
Get details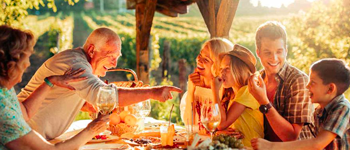 Can You Retire Off Your Tax-Free Savings Account?
The math breakdown of whether you can retire off your TFSA.
Get details
Time-Starved Canadians Guide To RRSPs 2021
A quick guide on what you need to know for the 2021 deadline
Get details
Have more questions?
Tell us what you need help with, and we'll get you in touch with the right specialist.