Making a withdrawal
Read about how to withdraw funds from your account.
Looking to make a withdrawal from your Questrade account? Good news, we've made this easy as possible so you have complete access to your funds at all times.
Depending on how urgently you need to access your funds, there are a few different ways in which you can make a withdrawal. The most common ones available through the Withdraw funds page.
The most popular withdrawal methods are Electronic Funds Transfers (EFTs) and Wire withdrawals.
EFTs are completely free, and may take up to 5 business days to process and arrive in your bank account. Wire transfers are faster, however there is a small processing fee attached.
Please see below for the differences between EFT and wire withdrawals to determine which is best for you.
EFT
Wire
Currency

CAD or USD

CAD or USD

Time
~5 business days

1-2 business days

Cost

Free

$20 CAD for CAD wire
$30 USD for USD wire
$40 USD or CAD for international wires
Please Note: Withdrawals of Canadian dollars (CAD) can only be sent to CAD bank accounts. U.S. Dollars (USD) can only be sent to USD bank accounts. If the cash in your Questrade account does not match your bank account's currency, you need to exchange the funds before withdrawing. You can do so ahead of time, or at the time of your withdrawal.
Please add 1-2 business days if the cash in your account has not 'settled'. Trade settlement is the two business day period where a stock, option or ETF trade is considered "official".
It is important to know that withdrawals can affect your account's overall contribution room or can be restricted depending on the account type.
This is especially true for registered accounts. You can read more about how withdrawals can affect specific account types below.
Log in to your Questrade account
Navigate to "ACCOUNTS" from the top left menu

(If you're already on this page after logging in, you can skip this step)

Hover over the "REQUESTS" tab from the main navigation menu at the top of the page, then click on "Withdraw funds"

Select the account you're withdrawing from at the top of the page. You can also view your balances here for easy reference.

Next, please select the currency of your withdrawal, and the dollar amount.

If your cash balance is not available in the currency of your choice, you also have the option here to request that Questrade convert the funds on your behalf.

Please select your withdrawal method, and choose the destination account for the withdrawal.

If you have previously set up a withdrawal or pre-authorized deposit (PAD), the bank account you have linked will be visible here to choose from
If you have not used this funding method, you will be asked to add your bank account details to complete your request

To connect a new bank account, please click the link below the selector box. We recommend you link your account electronically through our secure service, but you also have the option to manually connect your account.

Please note: If you choose the manual connection option, you must enter your banking details manually, and you are required to upload a void cheque or direct deposit form.

After you click "Connect with my bank" please choose your institution from the list, and log in with your banking credentials.
Please allow up to 3-5 minutes for the secure service to connect with your bank for the first time, then choose which specific bank account you'd like to link.

You can add up to 3 bank accounts per currency with this method.
If you have 2SV/2FA set up on your bank accounts, you may be asked for an SMS/email verification code.

Confirm the destination account at the other institution, then click the green "continue" button to submit your request.
Congratulations! You've finished entering your withdrawal request!
To check on this request, and any other withdrawals that are in-progress, please click the "Request history" tab near the top of the page.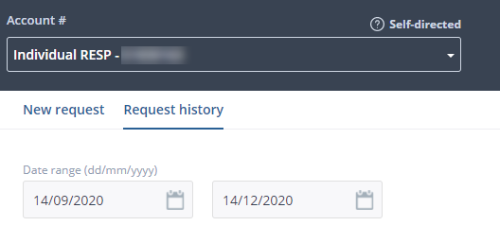 Withdrawals from a TFSA account are tax-free, and do not count towards your income for the year. However any funds withdrawn from a TFSA can only be 're-contributed' that same year if you have the available contribution room.
This is generally not a concern unless you plan to re-contribute the withdrawn amount, and you are close to, or at your TFSA limit.
On January 1st in the following calendar year, this will 'reset' and you're free to re-contribute the withdrawn amount if you'd like.
In addition, every year on January 1st. you gain additional TFSA contribution room if you're a Canadian resident over the age of 18. For 2021, this amount was $6,000 for example.
You can also check your TFSA contribution limit/room on the CRA's myAccount page at any time.
For example: If you withdraw $5,000, you will regain the $5,000 in room next year on January 1, plus add any additional contribution from for the year.
RRSPs are primarily intended for long-term retirement investment, however if you find yourself needing to withdraw the funds you can absolutely do so. Because contributions to an RRSP are tax deferred, when you withdraw from an RRSP there are tax implications.
You are taxed a 'withholding amount' when withdrawing to help cover any income taxes owing as a result of the withdrawal. The withholding amount may or may not completely cover any potential future taxes, this depends on your total overall income and other factors like deductions and etc.
For example: You have a yearly income of $45,000 and live in Ontario paying a base tax rate of approximately ~20% (Combined federal & provincial). If you withdraw $5,000 from your RRSP, the withholding taxes may not completely cover potential future income taxes. If you withdraw $16,000 however, you may be entitled to a tax refund, as the withholding amount is slightly higher than your base tax bracket.
Review the chart below to determine how the gross amount of your withdrawal will be taxed.
Withholding Tax Thresholds
| Amount | Tax rate |
| --- | --- |
| $5,000 or less | 10% (20% for Quebec residents) |
| $5,001 to $15,000 | 20% (25% for Quebec residents) |
| Over $15,000 | 30% (30% for Quebec residents) |
RRSPs also allow specialized, tax-free withdrawals* through the Home Buyer's Plan (HBP) or a Lifelong Learning Plan (LLP).
Please note: Withdrawals from an RRSP account will incur deregistration fees in addition to the withholding taxes.
Normal RRSP withdrawal - $50 for Partial, $100 for Full withdrawal
HBP/LLP withdrawal - $25 for Partial, $50 for Full withdrawal
Each of these accounts has a yearly minimum payment that must be withdrawn, and no withholding tax is applied. You can choose how these withdrawals are made and at which frequency when opening the account.
When you open a Questrade RIF or LIF account, you are asked to provide your payment preferences on the account application forms.
This can also be adjusted on a yearly basis if your needs change. If you would like to make changes to your payment schedule, fill out this form and upload it to your account.
You are able to withdraw greater than the yearly minimum if you would like by placing a manual withdrawal request through your account online.
The excess amount above the minimum has withholding taxes applied in the same way as RRSP withdrawals (see above).
RIFs can be withdrawn up to the entire value of the account, and LIFs have a maximum withdrawal cap, per year. For more information about LIF maximums, please see the relevant government site here.
LIRAs and L-RSPs are designed for your savings and investments when you leave a company-sponsored pension plan.
Generally, you are not permitted to withdraw from these accounts until retirement (earliest age is 55) in order for the funds to provide 'lifetime income'.
However, there are a few specific ways in which you can 'unlock' your account in certain, special situations if you require access to the funds.
Every locked-in retirement account has a specific pension legislation attached to it. These are 'inherited' from the original company-sponsored pension plan, and are either Provincial, or Federal. Every province also treats these plans differently.
If you are unsure about your account's specific pension legislation, please reference your documents from either your former employer, or the institution who used to hold the pension. Alternatively, you can also contact us for this information if you already have an account set up.
Please consult these government pages for the most up-to-date information about the 'unlocking' options for your specific account:
To make a special withdrawal request from your LIRA or L-RSP, please complete all of the required government forms, and mail them directly to Questrade. Unfortunately due to pension legislation, these forms cannot be accepted electronically via email or upload.
If you require additional assistance, or have questions about the different unlocking options, you can also contact us.
Margin accounts are taxable, and are not considered 'registered' accounts with the government. Due to this, withdrawals are not regulated, or limited in any way.
Income or capital gains tax applies at the time of the action in the account, (When you sell a security like a stock/ETF or receive a dividend) - however Questrade does not withhold this tax on your behalf.
Although transfers of cash out of a margin account are not taxable themselves, if you sold an investment and 'realized' or locked-in your profit, this action of realizing the profit is taxed as a capital gain when it's time to file your taxes. Therefore it's not the transfer of cash out of a margin account that 'triggers' the taxes, but rather when you bought/sold the investments and at what prices.
Because of this, we highly recommend speaking with a tax professional about the implications of actions in your Margin account.
Please note: Withdrawals from your margin account may also affect your buying power if you're currently borrowing funds to trade or invest. Please pay close attention to your balances and currency if this is the case, otherwise interest charges may apply.
RESPs are set up to help pay for a child's postsecondary education, and withdrawal options can be limited due to government regulations.
These accounts have 4 types of withdrawals available:
Education assistance payment (EAP)
Post-secondary education payment (PSE)
Capital withdrawal
Accumulated income payment (AIP)
Related Lessons
Want to dive deeper?
Balances and Reports
Understand how to read your account balances and the reports pages to know more about your investments.
View lesson
Read next
Funding your account
Learn about the different ways you can fund your account.
View lesson
Explore
Questrade platforms
Discover all our advanced trading platforms and decide which one is best suited for you.
View lesson
Have more questions?
Tell us what you need help with, and we'll get you in touch with the right specialist.