How to set up a DRIP
Review how to set up a dividend re-investment plan for your account.
The Dividend Reinvestment Plan (DRIP) allows you to reinvest your cash dividends automatically to purchase shares of the company that paid you those dividends.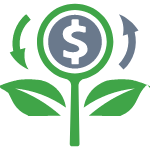 You can set up a DRIP for most stocks or Exchange Traded Funds (ETFs). Any cash dividends you earn will automatically be reinvested with no commissions to buy more shares or units of that Stock or ETF.
Questrade will buy the largest number of whole shares (no fractionals) available based on the market price using the dividend payment you received. Any leftover cash not used to buy shares, will remain as cash in your account.
For example: You own shares of ABC that have paid you $110 in dividends. ABC currently trades for $25 per share, so Questrade will purchase 4 additional shares at $25 on your behalf through the DRIP for $100 total, and you will have $10 in cash left over. This cash will remain uninvested in your cash balance.
Benefits of a DRIP
The main benefit of a DRIP is the "set it and forget it" approach. If your investing strategy revolves around reinvesting your cash dividends, setting up a DRIP makes this easy, and automatic. This way your cash dividends don't "sit around" waiting for you to reinvest them on your own
If you're reinvesting Stock dividends specifically, the DRIP is an easy way to save, as the DRIP is commission-free.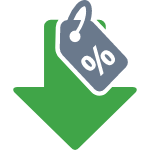 How to set up a DRIP
To set up a DRIP, please:
Download and complete the DRIP application form
Fill out the account number on the top right, if you have multiple accounts, please submit a new copy for each account/li>
Read through the terms and conditions
Fill out your name, the date, account number, and sign beside "Client signature" (E-signatures accepted)
Check off either All eligible securities, or Individual securities
If you've selected individual securities, you will need to list the ticker symbol, the names of the Stocks or ETFs and the exchange they trade on below
If you've selected all eligible securities, any eligible, dividend-paying securities will automatically be enrolled in the DRIP once you have purchased the shares. This includes new positions bought after you've submitted the DRIP form.
Upload the form directly to your account
If you're enrolling multiple accounts, please upload each form separately under the appropriate account number
Most DRIP applications are processed within 2-3 business days. If you're submitting an application close to a dividend payment date, and would like to take advantage of the DRIP, please take this processing time into consideration.
Important to know
The DRIP is free to enroll, and has no transaction fees or commissions
Almost every stock or ETF can be added to a DRIP
If you sell your investment, the DRIP is automatically cancelled
To cancel a DRIP without selling the investment, please contact our customer service team at support@questrade.com, chat, or call us at 1.888.783.7866

If you email your request, please include your account number, and clearly indicate which ticker symbol or position you'd like to enroll, or unenroll in the DRIP

If you've set up a DRIP for a specific security only, and have sold all of your positions, if you choose to rebuy the same security, you will need to re-enroll in the DRIP.

If you set up a DRIP for all securities, even if you sell all your shares, if you choose to rebuy them, they will automatically be added to the DRIP.

If you set up a DRIP for all securities, and only own positions in one currency, the DRIP will only auto-enroll securities of the same currency. If you're planning on holding both CAD and USD positions, please submit a DRIP form while holding securities in both currencies, or submit a new form after trading in a new currency for the first time.




Related Lessons
Want to dive deeper?
ETFs 101
Learn more about Exchange Traded Funds (ETFs).
View lesson
Read next
Funding your account
Learn about the different ways you can fund your account.
View lesson
Explore
Investing foundations
Learn about important investing foundations and how it can help your investments.
View lesson
Have more questions?
Tell us what you need help with, and we'll get you in touch with the right specialist.