Investing during a crisis: how markets have recovered in the past
Posted by William Hull April 23, 2020 • 1 min read
The impact to the market from COVID-19 is unprecedented but not entirely new
How bull and bear markets performed in the past
What you should do in times of high market volatility
In addition to the health concerns that come with COVID-19, we've seen unprecedented volatility in the stock markets. At times like these it can be easy to forget that these types of events have happened before. Historically while markets pull back in times of disruption and crisis they have usually recovered those losses and more in the years that followed, and, when viewed over the long term, provided positive return.
The below chart shows how the U.S. stock market has rebounded from different crises and the performance of specific bear and bull market periods.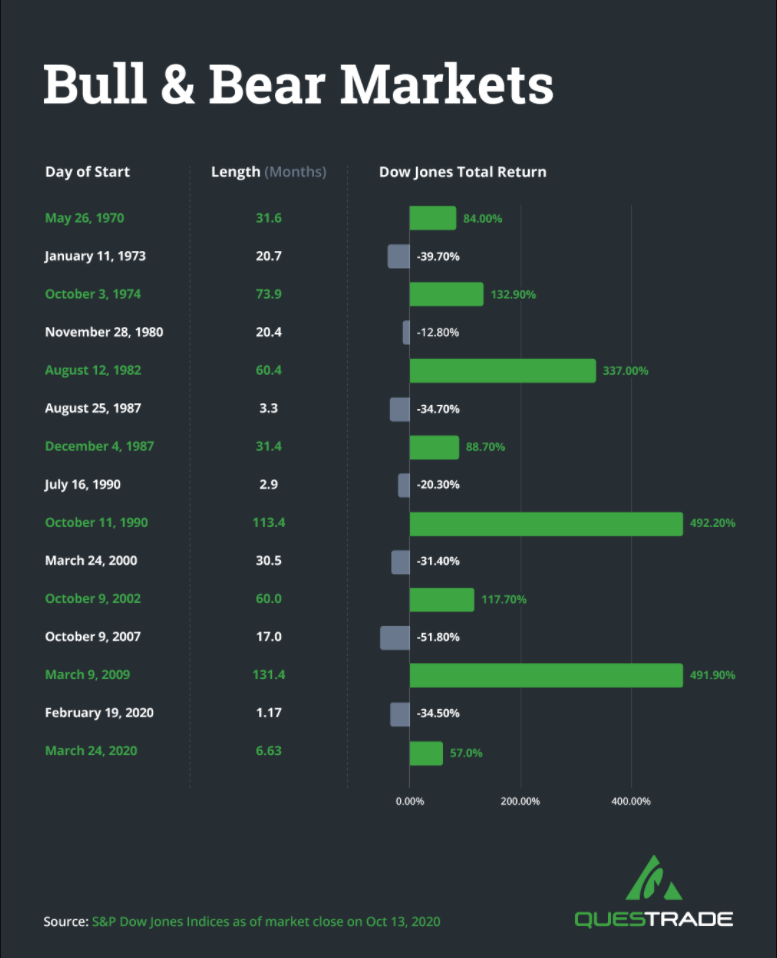 As you can see, the index has not only recovered from past losses but has gone on to have huge returns. Even the financial crisis of 2008 was followed by a period where the return exceeded 400%. While history is not a predictor of what might happen in this situation hopefully it does provide some helpful context for you about the recovery from prior significant events.
So while in the short term it is easy to panic, over the long term the benefit from regular investing still holds strong. Remember, we are always here to help and support you because we care deeply about helping all Canadians achieve long term financial success and security. And we wish you the very best in health during these challenging times.
If you enjoyed this post, please consider sharing it on Facebook or Twitter!
P.S. We'd love to meet you on Twitter or on Facebook
All content in the Blog, whether provided by Questrade, Inc. or created by the community members, is for informational purposes only and does not contain advice or recommendations on behalf of Questrade Inc. Use of this site is subject to the terms of service and user posting rules.